Years back, the visual of the American home included a living room with a postage stamp 4'x6' area rug placed underneath the coffee table. During that time, the question often asked was, "why is a rug even there?" After that span, manufacturers evolved to a larger 6'x9' rug offering. Continuing on to today, manufacturers have shrunk the 6'x9' to 5'x8' to improve profit margins and achieve a better price point, yet consumers are still looking for the 6'x9' option that they are sure still exists. Today, incorporating area rugs into spaces by framing furniture settings isn't the only goal of interior designers, and the latest trend is that all feet don't have to be on the rug. One best practice for rug sizing is that the rug needs to measure two feet larger than a dining table so chairs can pull away safely and easily.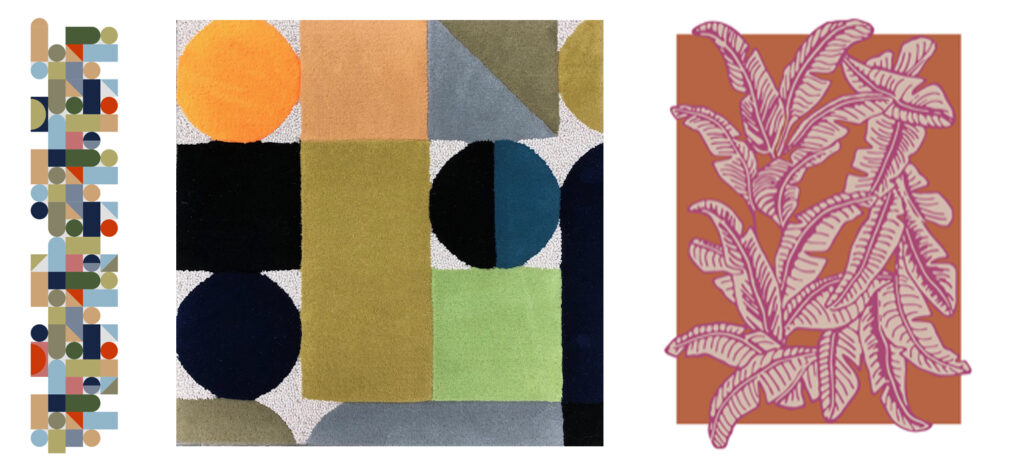 Additionally, designers are specifying larger rugs to ground furniture pieces, create a unified look, and ultimately
make the space appear less cluttered. In larger spaces with open floorplans, multiple conversation/seating areas are delineated or groupings achieved via larger area rugs. Almost anything goes these days, but designers typically need a good grasp of the floorplan to determine what it is best. Mocking up the floor with a measuring tape and four magazines is a way to get a better visual of the rug size needed. doing this on-site with the client in "real life," helps to define issues that might have otherwise not been clear on a floorplan. A perfect example is a stop and start point based on an obvious grout line. A "real-life" accounting also allows for assessing traffic patterns, which is so important.
Lastly, there is no rule that a rug has to be a square or rectangle. Get creative and think outside the box. Design custom area rugs where shapes break out of rectangle to add visual interest. Design and specify a uniquely shaped rug that accommodates an angled wall. Whatever your space demands, unique designs that are appropriately sized and scaled are the signature of today's trend-forward successful designer.