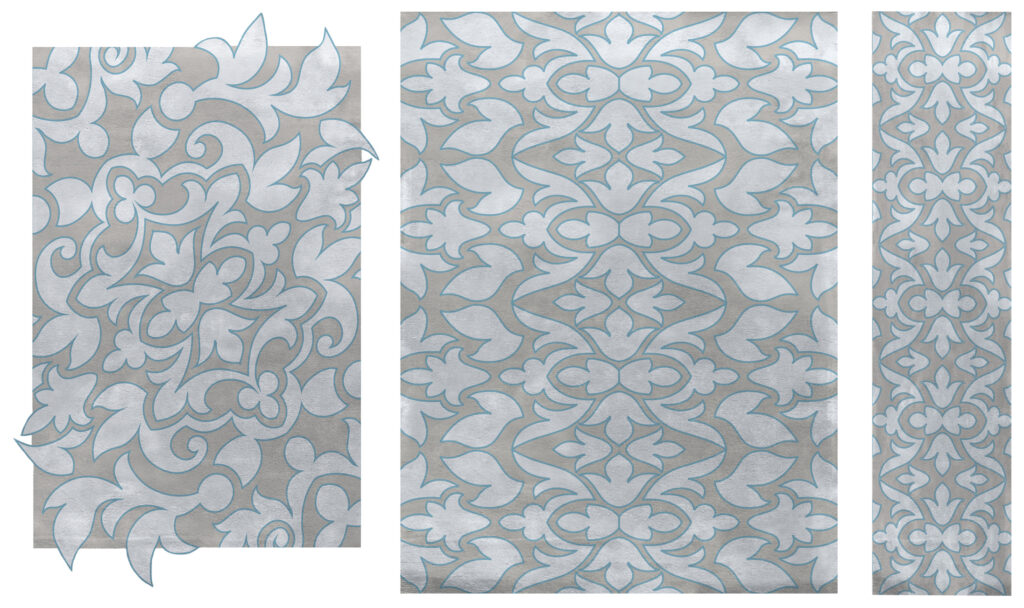 In the unit-based Amazon world we have found ourselves in today, clients are desperate for their designers to express individuality and authenticity throughout their home. Custom decor is a great way to celebrate the home's occupants.
I always start by asking the designer/client for inspiration photos from which to start. The renderings pictured here are taken from a recent project for a couple looking to transform their home into a spa-like retreat. To update their home, they took down walls. Although the goal was to make the disjointed space one open floor plan, they were also interested in creating more intimate areas using custom area rugs that were complimentary without being "matchy-matchy."
I started the custom area rug design process with their den, the heart of the home, where they were planning on spending most of their time. This couple is dynamic, to say the least. One was a talented artist, and the other was an out-of-the-box entrepreneur. I started with Delos' Woodcut pattern and angled the design to square it with the walls, fireplace and tv. I chose to bleed the pattern off the edges in strategic areas to create visual out-of-the-box interest. Colors spanned light and relaxing neutrals, with an outline of silk, to add a soft, welcoming shimmer to their anchor rug. Next, this pattern was reinterpreted for the rug in the adjacent dining room. The pattern looked ideal extending beyond the table and nestled chairs. Lastly, elements of this pattern were reimagined as a kitchen runner.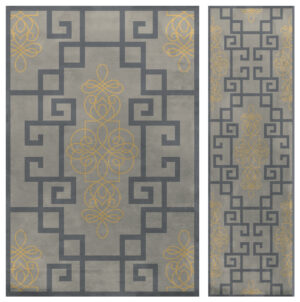 In the master bedroom, the client had re-finished their floors to a beautiful, warm neutral grey. Therefore, they weren't interested in a room-sized rug. They planned a seating arrangement opposite their bed. Delos' Zen pattern worked perfectly with their organic geometric bedding accented with Greek key. I added silk to the scrolling portion of the pattern to bring attention to the feminine curves. Curves are essential for achieving in a place of solitude. The strong geometric border of our Zen pattern provided a perfect cradle of balance, similar to that achieved with their bedding set. Flanking the bed, Zen's coordinating runners offered the perfect touch.
Delos renders free-of-charge in 48 hours and has an area rug designer on staff to help. Once you get inspired, feel free to get a Delos rendering underway. If you get stuck or run out of ideas, know that Delos is always here to help harmoniously celebrate your client's individuality.